In the hybrid vehicle market, the 2017 Ford Fusion near Bend, OR annually places high on the consumer chart, mostly because of Ford's commitment to improve upon its predecessor with each new model. Next year's model follows Ford's MO by applying a tweaked grille, a new lower fascia, a more angular headlamp, and LED tail lights to lend the Fusion even more eye appeal on the road.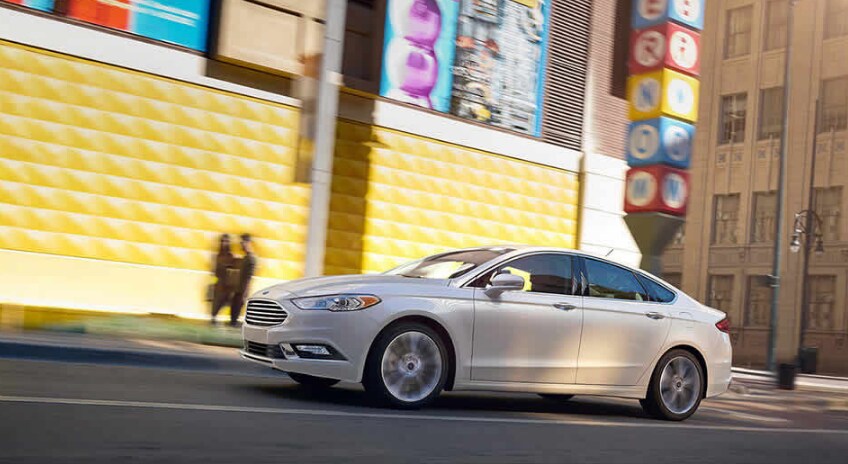 Combine design tweaks with the punch of its 2.5-liter engine, capable of delivering up to 175 horsepower and 175 pound-feet of torque, and the 2017 Ford Fusion around Bend, OR becomes an everyday delight to drive.
Aside from its eye-catching body and robust engine, the 2017 Ford Fusion around Bend, OR presents four other essential features in upholding its title as the perfect family sedan.
Safety You Can Count On
Safety is often a major consideration in buying decisions. Buyers should know that the 2017 Ford Fusion garnered a five-star rating from the National Highway Traffic Safety Administration (NHTSA). The latest model of the Fusion also earned a 2016 Top Safety Pick+ rating from the Insurance Institute for Highway Safety. Drivers seeking a Ford near Bend, OR that ensures safety should give the Fusion their utmost consideration.
A Relaxing Ride
Life is already hectic enough; the bustle of traffic certainly doesn't help calm your senses. Luckily, the 2017 Ford Fusion incorporates front and front-side acoustic panels that minimize external noise, promising the most peaceful ride possible.
Easier Parking
Even veteran drivers sometimes experience intimidation when parking. Jockeying a car to fit into tight spaces is never stress-free. Knowing this, Ford employed an optional Enhanced Park Assist system to break the tension of parking. With the press of a button, the car automatically operates the throttle, allowing the driver to only worry about braking.
Sync3 Infotainment System
These days, touchscreens in a car are almost passé. And, why not? Technological advances make them easier and more engaging to use each year. Drivers of the 2017 Ford Fusion will find the Sync3 infotainment system delightful with its crisp 8-inch touchscreen, complete with responsive, well-aligned buttons. Bopping to your favorite music or activating your navigation system is as easy as tapping on your smartphone.
Test Drive the 2017 Ford Fusion Around Bend, OR
Raring to give the 2017 Ford Fusion a test drive? Then don't hesitate to visit a Ford dealership serving Bend, OR, such as Thomas Sales and Service.
Sources:
2017 FORD FUSION HYBRID S REVIEW, auto123.com
2017 Ford Fusion Earns Five-Star Safety Rating From Federal Government, edmunds.com
Top 9 features on the 2017 Ford Fusion, wheels.ca