If there's any midsize sedan that keeps in mind every type of driver, it's the 2017 Ford Fusion near Redmond, OR. Of all the models out there, Fusion is the only one that offers a hybrid, plug-in and all-wheel-drive version. The 2017 model receives a set of enhancements aimed at providing drivers a pleasant driving life, while retaining that traditional vibe of the Fusion.
Important aspects, such as the console-mounted transmission level and the cabin, are redesigned for better functionality. The 2017 Fusion from Ford dealers around Redmond, OR keeps every driver's needs in mind.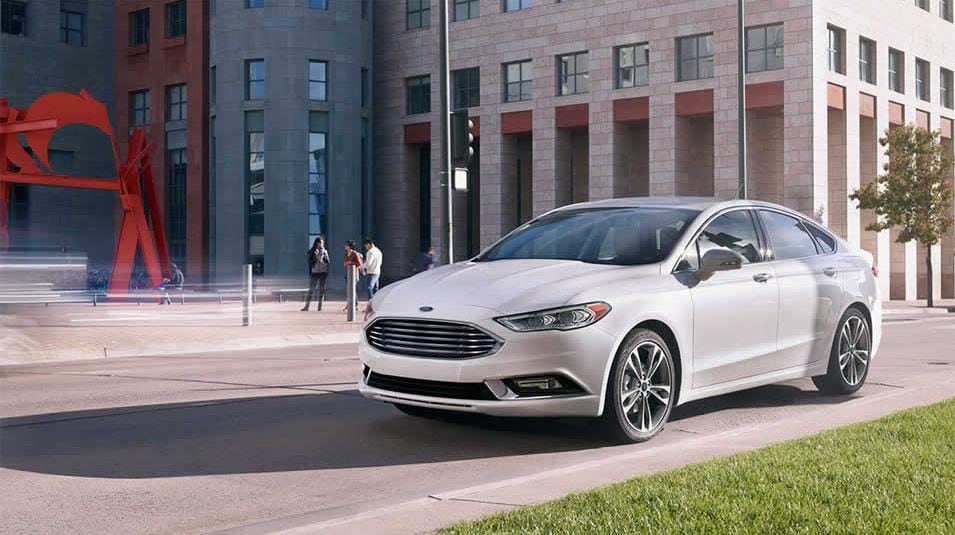 2017 Ford Fusion near Redmond, OR: Performance
The 2017 Fusion offers multiple engine options, providing a wider range of choices based on needs and preferences. The 2.5-liter, 4-cylinder musters 181 horsepower while the 1.5-liter delivers more speed at 240 horsepower. The 2.0-liter EcoBoost 4-cylinder, on the other hand, bears resemblance to the V6, with a fuel economy of 21/31 city/highway mpg.
The Fusion Energi plug-in hybrid, meanwhile, features Auto mode or EV Now mode, letting you drive the vehicle on electric power for 19 miles. Its fuel economy is designed to surpass the 88 MPGe capacity of the 2016 model. This hybrid boasts the same fuel economy at 43/41 city/highway mpg, enough to get you where you need to go.
Last but not the least, the 2.7-liter twin-turbo EcoBoost, available for the Fusion Sport, produces 325 horsepower. It's accompanied by all-wheel drive, paddle shifters and larger brakes.

Design
The design of the 2017 Ford Fusion near Redmond, OR includes noticeable noise reduction from an interior now equipped with standard acoustic windshields for a more peaceful cabin. Fusion's Active Noise Control is available as well, allowing your passengers to relax and simply enjoy the ride without the distraction of exterior noise.
You can also opt for heated and cooled seats, meaning maximum comfort for everyone, no matter the weather outside. As for tech features, Fusion boasts SYNC connectivity. Access to Apple CarPlay, Android Auto and many more mobile applications enhance the road experience.
Meanwhile, the exterior of the 2017 Ford Fusion near Redmond, OR is brightly adorned by a set of LED lights for headlamps, fog lamps, tail-lamps, and accent lighting. Though stylish, they equally provide function. You don't have to worry about restricted vision as you have all the means for maximum illumination.
These options and more await you when you shop for the 2017 Ford Fusion at nearby Redmond, OR Ford dealerships.
Source:
2017 Ford Fusion First Review, kbb.com
2017 FUSION, ford.com