The rivalry between Ford and Chevy is as iconic as the world-famous vehicles these manufacturers produce. Yet no other aspect of this competition is as intense as that between the 2018 Chevrolet 1500 near Madras, OR and the 2018 Ford F-150. Every year, the F-150 and the Chevy 1500 go head to head to see which truck is more capable and more powerful.
For 2018, Chevrolet brings on the heat with a commanding and well-appointed truck that most will find hard to match. However, the Ford F-150 reigns undisputed as America's best-selling truck (and vehicle), and the 2018 Ford F-150 is carrying on that legacy.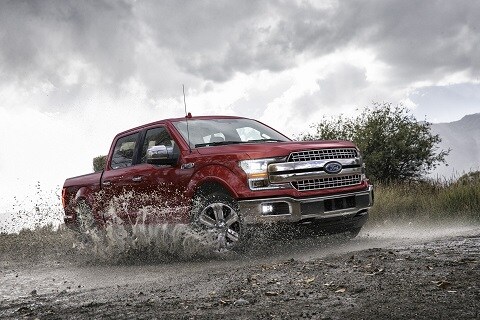 Safety Comparison
The 2018 Ford F-150 is named a Top Safety Pick by the Insurance Institute for Highway Safety (IIHS), scoring "Good" across the board for its third-party crash tests. The 2018 Silverado 1500 also has good marks, but it falls short with a "Marginal" score for the new driver-side small front-overlap test. Of the four scores the IIHS awards, "Marginal" is second to the lowest.
Expect the Chevy 1500 to come with the latest safety features, such as blind spot monitoring, autonomous emergency braking, lane keep assist, forward collision warning, and lane departure warning. The 2018 F-150 is not to be outdone, however, and adds a unique self-parking feature along with trailer back-up assist to help the driver navigate more easily when reversing with a trailer. While both have some exclusive safety technology, the 2018 Ford F-150 surpasses the 2018 Chevy when it comes to driver-assistance features.
Passenger Space Comparison
To attract as many drivers as possible, the 2018 F-150 and the Silverado 1500 offer several trim levels. Drivers can choose anything from rugged work trucks all the way to the top-shelf Silverado High Country and F-150 Platinum. One look inside each interior will leave no doubt to the staggering level of luxury these trims offer. With premium features like the cab-length panoramic sunroof, however, the F-150 manages to take it a step higher than the Chevrolet 1500.
In terms of space, there's little difference between these two trucks, although the Silverado 1500 provides just a bit more space for front passengers, while rear passengers get more legroom in the F-150. Ford also uses that space more cleverly, giving buyers more interior storage in the form of compartments and cubbies. The center console is especially deep and can store everything from laptops to tools inside.
Ford loads the 2018 F-150 with today's newest tech, such as its highly-intuitive Sync3 infotainment system, 4G LTE WiFi connectivity, and optional 10-speaker Bang and Olufsen sound system. High-capacity ports are capable of charging tablets, and you can also run appliances or small tools by fitting it with standard power plugs.
Reliability Comparison
Steering is nicely weighted in the Silverado 1500. Higher trims equipped with 4WD feature a nifty automatic mode that makes it easy for the Chevy 1500 to handle any road surface. Buyers with adventure in mind might be disappointed with its lack of a hard-core off-road version.On the other hand, the 2018 Ford F-150 is capable of shedding up to 500 pounds depending on the configuration you choose, thanks to extensive aluminum components. You'll find a steel ladder frame made of high-strength materials under the body panels. The lightweight body makes for great road isolation.
Engine Comparison
The 2018 Ford F-150 continues to come out on top in terms of maximum power and torque. It maxes out at 450 horsepower and 510 lbs.-ft. of torque owing to the F-150's impressively powerful and efficient engine line-up. The Chevrolet 1500 maxes out at 420 horsepower, which is slightly less than the F-150s. This gives Ford's truck best in class towing and hauling capabilities, rated at 13,200 pounds (towing) and 3,270 pounds (hauling). The Chevy 1500 pales in comparison with towing capability of only 12,500 pounds and hauling at 2,250 pounds.
There's a reason no truck has succeeded so far in pushing the F-150 from its number one position, and it's easy to see why when exploring 2018 Ford F-150 options. The 2018 F-150 simply has more power, capabilities, and safety than Chevrolet's offering. Year after year, the top-rated F-150 gets updated to remain competitive in a cutthroat segment.
The 2018 Chevrolet 1500 near Madras, OR puts up a fierce fight with an excellent truck, but ultimately, it still comes second next to the unbeatable 2018 Ford F-150.