After decades of intense competition, the 2019 Chevrolet 1500 in Madras still hasn't managed to overtake America's best-selling truck of all time: the Ford F-150. This fierce race, however, gave truck fans two of the finest beasts the segment has ever seen. Does the 2019 Chevrolet 1500 finally have what it takes to dethrone the 2019 Ford F-150?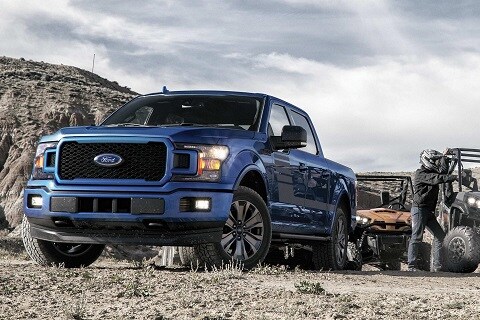 Safety Comparison
Rear inflatable seatbelts are a great innovation when it comes to safety. When a collision occurs, these inflatable seatbelts spring into action to spread out crash forces and reduce injuries. The 2019 Ford F-150 SuperCrew makes this type of seatbelts optional, but the Chevy 1500 does not offer them at all.
Crash tests scores are also in the Ford F-150's corner. The NHTSA awarded the Ford F-150 with its highest possible score of five stars. This is bolstered by a Top Safety Pick citation from the IIHS for 2017. Out of all cars tested by the agency, only 139 cars were granted this distinction.
The 2019 Ford F-150 also registered top-tier performance in critical tests like roof-crush and side, frontal, and rear impact. When you're driving a truck built for hard labor, superior crash test results are critical. Unfortunately, the 2019 Chevrolet 1500 has not undergone complete testing yet.
Detail-wise, the Ford F-150 doesn't leave anything to chance. Available high-tech safety features include active lane control, forward collision warnings, adaptive cruise control, automatic emergency braking, and blind spot monitors.
Passenger Space Comparison
The line-up for 2019 Chevy 1500 and the 2019 Ford F-150 range from the base trims to ultra-luxurious trucks. However, the Ford F-150 scores more points in terms of space. The Ford F-150 SuperCab configuration has 4.5 inches more hip room, 1.3 inches more front hip room, and .4 inches more rear headroom than the Chevrolet 1500.
The 2019 Ford F-150 also has the upper hand with .7 inches more front shoulder room, 1.3 inches more front hip room, and .7 inches more rear shoulder room than the Chevy 1500 Crew Cab.
With towing capacity topping a class-leading 8,500, pick-up trucks are expected to haul everything from loaded trailers to big bikes. If you're planning to bring some tall, light loads, the stake post holes on the Ford F-150 are a thoughtful and convenient feature. This set-up is missing on the 2019 Chevrolet 1500, so you might find it more difficult to haul this kind of cargo.
Reliability Comparison
When you look at the statistics, the 2019 Ford F-150 has a long and proven history of reliability. In a 2018 Initial Quality Study done by J.D. Power and Associates, Ford ranked above the industry average at 5th place. Chevrolet ranked 6th.
This reputation is backed by Consumer Reports in its Auto Issue published April 2018. Ford was judged higher in reliability, placing three spots above Chevrolet overall.
Moreover, the 2019 Ford F-150 integrates an overhead cam design for its engines. This results in fewer moving parts, better efficiency, and smoother operation in the Ford F-150. Some engines on the Chevy Silverado still retain the outdated pushrod design.
In case you lose the engine's coolant, the Ford F-150 put a "limp home system" in place so you can avoid being stranded. This allows you to reach service stations by using only half of the cylinders to conserve power. The Chevrolet Silverado does not have a similar system, so you risk serious damage to the engine and being stranded should your coolant leak.
For bigger repairs or maintenance, the 2019 Chevrolet 1500 gives you great protection against corrosion with a 100,000-mile warranty. However, this pales in comparison to the unlimited corrosion warranty offered by the Ford F-150.
Engine Comparison
Even the most basic engine on the 2019 Ford F-150 (3.3 DOHC V6) is more powerful than the Chevrolet 1500 (4.3L V6) at 290 horsepower versus 285.
The story is the same when you consider the speed. Car and Driver pitted the Ford F-150 Raptor/Limited 3.5 V6 against the Chevy Silverado V8. It only took the Ford F-150 five seconds to reach 60 MPH from zero, while the Chevy 1500 took longer at 6.1 seconds.
The 2019 Ford F-150 Continues its Reign
The 2019 Chevrolet 1500 in Madras is a formidable truck, but it's still no match for the might of the 2019 Ford F-150. The Ford F-150 doesn't make any compromises in the level of comfort, towing, safety, and brute force on its line-up.
Truck buyers can also customize their Ford F-150 in thousands of different ways. How do you want your 2019 Ford F-150? Tell us all about it here at TS&S Ford! Click for more information.