As far as midsize pickup trucks go, the 2019 Chevrolet Colorado in Madras, OR is one of the more exceptional pickups around. It comes with a sterling record, impressive performance, durable features, and complete interiors. But that's bound to change with the arrival of the 2019 Ford Ranger, the more all-around pickup.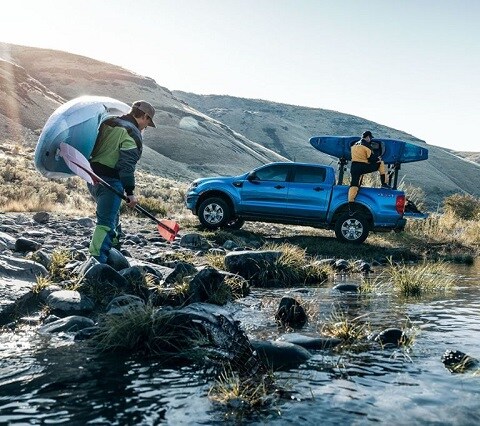 Safety Comparison
The 2019 Chevrolet Colorado does not skimp on safety features, as it is equipped with frontal, side, and head-curtain airbags in the cabin. Together with a high-strength steel frame and a reinforced safety cage, the Colorado has everything to keep you protected. A disadvantage for the Colorado would be the unavailability of the active safety technology with the standard offering. This is a bit of a disappointment, as it misses out on smart driving technologies which are prevalent in most vehicles today.
As the 2019 Ford Ranger enters the competition, it also boasts of a comprehensive system of airbags that keep drivers and passengers safe throughout the journey; giving you a safer pickup option. In addition, it has a complete active safety system that comes standard with every trim. The active safety system has Adaptive Cruise Control with radar sensing. When the vehicle in front of you slows down, the Ranger slows down too; when the traffic subsides, the preset settings are restored.
Another feature is the Lane Keeping System, which alerts drivers when moving out of lane by vibrating the steering wheel or applying steering torque. Finally, there is the Pre-Collision Assist feature, which can pre-charge the brakes when a car or pedestrian suddenly gets in the way.
With a complete active and passive safety system, the 2019 Ford Ranger has got it all covered for every trim. This makes it the top pick when it comes to safety.
Passenger Space Comparison
The 2019 Chevrolet Colorado cabin comes with lush cloth and leather covered seats, providing comfort in any condition. The 6-way power driver seat and 4-way front passenger seat are designed to keep you feeling comfy throughout the ride. It also comes with a spectacular infotainment system with an 8-inch color screen, 4G LTE WiFi Hotspot, Apple and Android supported playback function, and Bose sound system; designed to keep you entertained while maneuvering any road.
Not to be outdone, the 2019 Ford Ranger also gives you a choice of either the finest cloth or leather for your cabin seats. The seats are also heated to withstand even the coldest weather, with a 6-way power driver seat and a 4-way front passenger seat. An 8-inch infotainment screen keeps you entertained on any drive, with optional Wi-Fi capabilities. What's great about the Ranger's WiFi is that it supports connections up to 10 devices, allowing every passenger to stay fully connected on any trip. In addition, the FordPass technology can be used to keep track of the WiFi usage, so you won't go over your allotted data. Another edge of the Ranger is the Sync 3, a voice-activated, hands-free technology that enables you to control infotainment and calls within your vehicle.
With the Ranger's superior WiFi capability and voice-activated technology, it has a clear edge in this category.
Reliability Comparison
As a pickup, the 2019 Chevrolet Colorado is a total workhorse. Its tenacity for loads is strong, as evident in its 7,600 lb. available towing, and its 1,580 lb. payload. The loads it can sustain with its strong high-steel structure definitely show why it's one of the best in its class.
However, the 2019 Ford Ranger is truly in it to win it, pulling a great deal above its weight as well. It manages up to 7, 720 lb. towing, as well as 2,200 lb. in payload. Ford has a reputation of testing its vehicles in any condition, and its high steel structure shows why it lives up to its motto of "Built Tough."
While both vehicles are clear heavy lifters, Ford slightly edges Chevrolet in this category.
Engine Comparison
The 2019 Chevrolet Colorado is no slouch when it comes to engines. It possesses a 2.8L Duramax Turbo Diesel 4-cylinder engine, which produces 181 horsepower and 369 lb. ft. of torque. As for the driving capabilities, 4-wheel drive comes as a standard on some models.
The 2019 Ford Ranger, on the other hand, has a 3.2L TDCi Turbo Diesel Engine, which packs up to 200 horsepower and 347 lb. ft. of torque, making for more powerful drives. In addition, 4-wheel drive functionality comes with all models.
While both are impressive, the Ranger's more economical engine totally outclasses the Colorado's.
There's no doubt the 2019 Chevrolet Colorado in Madras, OR is a spectacular pickup. But with the 2019 Ford Ranger's return in the US market, it totally dominates the Chevy with its complete safety features, superior driver technology, and powerful engine.