The 2019 Chevy Colorado in Madras has dominated the midsize truck market for several years now. Buyers flock to this pickup thanks to strong engine choices, the off-road capability of the ZR2, and pleasant interior design. This was before the 2019 Ford Ranger finally returned from a six-year hiatus to disrupt the segment. This beloved pick-up truck is challenging all rivals with serious muscle, upscale technology, and class-exclusive features.
Will the 2019 Chevrolet Colorado manage to hold on to its lead against the 2019 Ford Ranger?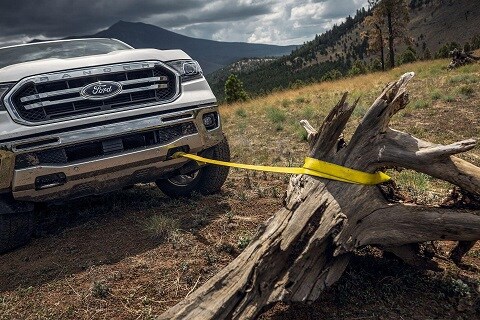 Safety Comparison
In many aspects, the 2019 Chevy Colorado is a solid truck. However, safety is a consistent weak point. The 2018 Chevy Colorado earned four out of five stars from the NHTSA and mixed scores from the IIHS. Its collision warning systems earned a "Basic" rating, while the headlights got a "Poor" evaluation. Since the 2019 model received minimal safety updates, these issues are expected to carry over to the new model year.
All versions of the Chevrolet Colorado are equipped with antilock brakes, a backup camera, six airbags, and stability control. However, advanced features like lane departure warning and forward collision warning are only available on the more expensive LT trim or higher. Other essential features including rear cross-traffic alerts and automatic emergency braking are absent altogether.
On the other hand, the 2019 Ford Ranger is expected to be one of the safest midsize trucks ever designed. The all-new Ford Ranger has a bevy of driver assistance and safety systems such as automatic emergency braking, an updated lane departure warning system, optimized lane keeping assist, and an enhanced reverse sensing system.
The Ford Ranger raises the bar for towing safety as well. The new blind spot information system has sensors with a line of sight up to 33 feet to the back of the trailer. The FX4 off-road package boasts a redesigned Trail Control System, primarily functioning as cruise control for off-road exploits.
Passenger Space Comparison
The 2019 Chevy Colorado is well-built and uses quality materials in its cabin. Chevy Colorado models, on the other hand, tend to be on the average side. In addition, even the more spacious crew cab variants feel cramped, with seats that are too upright for comfort.
Better-appointed interiors are offered in the 2019 Ford Ranger. A pair of Liquid Crystal Display screens adorns the instrument cluster in addition to an 8-inch touchscreen. There are numerous practical features as well, such as waterproof storage under the rear seats.
Visually, the 2019 Ford Ranger adopts a modern and sleek look with stitched soft-touch materials and glossy trim. Tech features include the Ford+Alexa personal assistant, Apple CarPlay, Android Auto, 4G LTE Wi-Fi for up to 10 devices, smartphone and AC laptop charging, and more.
Reliability Comparison
Historically, Ford models have been ranked more reliable than Chevrolet. On average, it takes around 195,754 miles for Chevrolet cars to bottom out. Fords last longer on the road at 198,409 miles.
The Chevrolet Colorado is covered by a basic warranty of 3 years/36,000 miles. Ford vehicles are protected for five years/ 60,000 miles when it comes to the powertrain.
With more Ford dealers than Chevrolet dealers overall, you'll have a much easier time finding help for repairs or routine maintenance to keep your 2019 Ford Ranger in excellent shape.
Engine Comparison
The Chevrolet Colorado line-up can pull a little more than the Ford Ranger line-up at 7,700 pounds versus 7,500 pounds. The difference is that all Ford Ranger models can tow 7,500 pounds - but only the most expensive Chevy Colorado trims can pull 7,700 which means you have to pay more for such a small difference.
Finally, there's no denying that the 2019 Ford Ranger offers a more comprehensive and more sophisticated driving experience. Buyers are in line for Adaptive Cruise Control and a class-exclusive 10-speed automatic transmission that comes with a state-of-the-art Terrain Management System with four drive modes: sand, mud/ruts, grass/gravel/snow, and normal.
Make Way for the Newest Midsize Truck in Town!
The 2019 Ford Ranger will go places that the 2019 Chevy Colorado in Madras finds hard to reach. It will do so with more safety, technology, and power than any of its rivals today.
Let TS&S Ford Madras show you what the 2019 Ford Ranger is made of. Click to preorder a Ford Ranger!