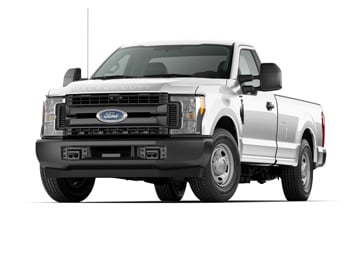 The 2019 Ford F-250 and the 2019 GMC Sierra 1500 in central OR are built for tough jobs. With the 2019 Ford F-250 and 2019 GMC Sierra 1500, with any situation or task you have at hand, you can rely on the strength, power and capability of these two vehicles to help you. However, one of these trucks will be more useful in all aspects.
To find out which one is more convenient for your day-to-day or work life, take a look at these specs: 
Comfort
The Ford F-250 offers a great amount of legroom and it will be very convenient for tall passengers. The GMC Sierra 1500 also offers a good amount of legroom for passengers however, the Ford-250 offers more comfort than the GMC Cierra. The seats of the Ford F-250 are made of more luxury materials. This makes the experience of driving, or riding in, the F-250 a much more comfortable one than driving the GMC Sierra 1500. Experience the comfort of the Ford F-250 for yourself by scheduling a test drive and product demonstration.
Cost
Regardless of which style you decide to buy, the 2019 Ford F-250 has something for everyone. Ford has made several changes to this year's F-250 line-up; therefore, its price has changed a bit. Though the price has gone up, it has elevated less than we would expect considering all the new standard and available features.
Dimensions: 2019 GMC Sierra in Central OR vs Ford F-250
Full-size trucks can take up a lot of space, especially trucks as wide as the 2019 GMC Sierra 1500 4WD. This means you may not be able to fit into tight parking spots and might need to find a bigger space than normal. Parking is not convenient in a GMC Sierra. When driving this pickup in congested areas, you need to keep tabs on your surroundings at all times. 
Payload and Towing Capacity 
A large payload and towing capacity are big sellers for many trucks. The Ford F-250 excels in this area, unlike the 2019 GMC Sierra 1500 in central OR. Ford's most well-equipped F-250 model boasts a payload capacity of over 4,300 pounds, allowing the truck to haul almost anything. The Ford F-250 wins in this category because it has more payload capacity than the GMC Sierra 1500, which only offers up to 2,120 pounds in Four-Wheel Drive (4WD). 
Lightweight Design
Since the use of such a lightweight construction material, aluminum in the F-250's case, reduces the weight of the vehicle, the F-250 is able to function more efficiently, especially when it comes to making it through tight corners and getting up to speed on the highway. The GMC Sierra cannot say the same thing.
Get the best truck out there. 
If you're looking for a truck that has it all, the 2019 Ford F-250 in Central OR is a better choice than the 2019 GMC Sierra 1500 in Central OR. The F-250 has proved its win in various specs, there's no doubt any buyer will enjoy using and test-drive the F-250.