The Nissan Frontier in Madras OR is a highly dependable and affordable midsize pickup truck packed with great features and power, however, when competing head-to-head with the 2019 Ford Ranger, the Ranger takes the cake.
The 2019 Ford Ranger is a modern beast through and through, with cutting-edge technological features, powerful capacities, and an engine that is a notch above the rest.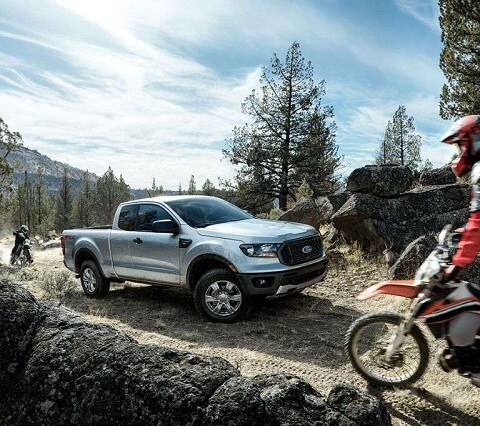 Safety Comparison
The Nissan Frontier may look deceptively simple, but it does not fall short when it comes to safety. Nissan's advanced airbag system comes in dual stage settings and has seat belt and occupant classification sensors. However, Nissan must catch up with the times by including more active safety technology options, something that its top competitors have already invested in.
Not to be outdone, the 2019 Ford Ranger has an equally outstanding system of airbags and seatbelts. It also has an active safety system guided by radar, which includes Adaptive Cruise Control, a Lane Keeping system, and Pre-Collision Assist features. The comprehensive active and passive safety system on the Ranger is unmatchable, making it the top choice for safety.
Passenger Space Comparison
The Nissan Frontier likes to keep things simple when it comes to interiors, saving its best ammunition for its performance, but that's not to say the Frontier is behind in the game. Just like its contemporaries, it has a 5.0" color display that can be connected to a smartphone for taking calls and playing music through its four speakers. It also comes equipped with a rearview monitor that can be used when backing up your vehicle. Wrapping up the Frontier's interior features are the driver and front passenger seats, which are adjustable up to 4 ways, giving enough simple comfort.
The 2019 Ford Ranger, on the other hand, is a paragon of modernity, with lush touches and its 8.0" infotainment screen. You can readily hook up your mobile device to make hands free calls and messages and play music over its 6 speakers. It also has a rearview monitor to make parking easier than ever. Unlike the Frontier, however, it is equipped with SYNC3, a voice-activated technology allowing you to control your infotainment options with ease. Lastly, the Ranger's seats trump the Frontier's; they are adjustable in 8 ways and are heated for maximum comfort in cold conditions.  With a tad more to offer than its competitor in the interiors battle, the Ranger claims this round as well.
Reliability Comparison
For all its simple and economical attributes, the Nissan Frontier is a very reliable vehicle. It produces a payload capacity of up to 1,460 lbs. and a trailer towing capacity of up to 6,710 lbs. But maximizing these capacities comes at a price, as the Frontier produces a disruptive vibration as it tows the load. This vibration can be quite bothersome, especially on long rides.
Meanwhile, the 2019 Ford Ranger holds the title best in class payload at 1,840 lbs., and trailer towing capacity of 7,500 lbs., which is substantially higher than its competitor. Equipped with Ford's special shocks on its wheels and a specially designed chassis, the Ranger can maintain its stability as it carries any load. Overall, the Ranger outperforms the Frontier as the more reliable choice.
Engine Comparison
The 2018 Nissan Frontier's top engine has a no-nonsense tune about it.  As a 24 valve, 4.0-liter V6 engine, it is capable of producing up to 261 horsepower, and 281 lb. ft. of torque. To harness this power, one can benefit from Nissan's Flexible Fuel Vehicle (FFV) feature, which gives the option to use gasoline, ethanol E85, or a combination of both.
The 2019 Ford Ranger, on the other hand, has a 2.3 L 4 cylinder turbocharged engine 270 horsepower and 310 lb. ft. of torque. The power is delivered via 10 speed automatic transmission which blows the competition completely out of the water. If you're looking toward engine performance, there is no denying the Ranger's dominance over the Nissan Frontier.
The Nissan Frontier in Madras, OR is economical and dependable as a pickup, and arguably the most affordable in its class. However, the 2019 Ford Ranger simply dominates the competition with a more durable structure, highly modern amenities, and engine and capacity performance: giving it an overall better value for your money.