The 2019 Nissan Titan in Madras, OR is Nissan's latest attempt to catch up with today's finest trucks. It gets some things right, like a roomy cabin and competent hauling capabilities. Compared with the 2019 Ford F-150, however, the Nissan Titan simply doesn't offer a lot of compelling reasons to make it a real contender.
The 2019 Ford F-150 is America's all-time best selling truck for a reason, and the Nissan Titan lags far behind.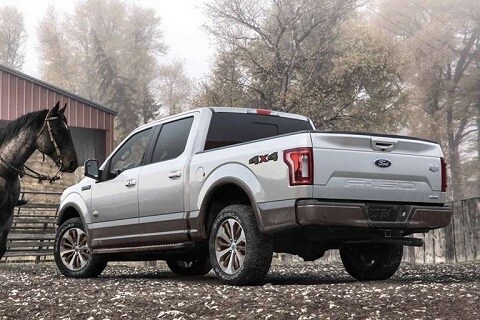 Safety Comparison
The 2019 Nissan Titan lacks many safety features that all 2019 vehicles should already be equipped with, but the truck does offer anti-lock brakes, stability control, six airbags, and other basic features. Optional features include rear cross-traffic alerts and blind spot monitors, and not much else.
You will not be offered the latest technologies such as active lane control, adaptive cruise control, and automatic emergency braking- critical features that keep passengers and cargo safe on heavy-duty trucks like this one.
In contrast, the 2019 Ford F-150 keeps it cutting edge with available advanced safety features such as forward collision warnings, inflatable rear seat belts, and adaptive cruise control. You can also upgrade your F-150 with surround-view cameras, active lane control, navigation, and a trailer tow package that's a must-have if you plan to regularly haul large loads.
It's the same story when you check out the crash test scores of both trucks. The 2019 Ford F-150 received a 5-star overall score from the NHTSA. On top of those excellent federal scores, the F-150 also earned the highest, "Good," scores from the IIHS in almost every category. Unfortunately the 2019 Nissan Titan received a mixed bag of results; while it scored "Good" on some tests, it also earned some poor ratings such as a "Marginal" score for its headlights.
Passenger Space Comparison
Both trucks have the same passenger capacity, however, it's a tighter fit inside the Nissan Titan which only has 41.8 inches of legroom compared to 43.9 on the Ford. Shoulder room is only 63.3 versus 66.7, and hip room is 60.8 versus 62.5. Passengers will have the room to stretch out more in the F-150, and taller individuals will enjoy more legroom and headroom.
Comfort and quality-wise, the 2019 Ford F-150 continues to trump the Titan. Its seats are comfortable and well-shaped, but the driver's seat is not height-adjustable. Since the Titan has a below-average outward vision, this can be a significant issue for other drivers. The Ford F-150 goes out of its way to be accommodating. You get lots of regular storage space plus lockable ones for those expensive power tools and laptops. Recharge your gadgets using the standard 110-volt outlets. The truck offers leather seats, heating and cooling seats, large touchscreens, and a host of other creature comforts that perfectly combine utility and luxury.
Reliability Comparison
If you're basing your truck purchase on warranty, it's excellent news to the 2019 Nissan Titan, thanks to its 5-year, 100K-mile bumper-to-bumper warranty. However, it's easier to find Ford dealers if you ever need maintenance or repairs because there are so many more Ford drivers than Nissan drivers on the road today. Plus, our dealership offers a Lifetime Limited Powertrain Warranty.
In addition, Ford F-150 owners report incredible durability from their trucks. 300, 000+ miles of hauling and driving with no problems? Easily done in the Ford F-150. Ford has also overhauled the body of its most famous truck, making it lighter and more agile without sacrificing performance.
Engine Comparison
Most Titans are outfitted with a 5.6-L V8 engine with 390 horsepower. While it's powerful enough at 12, 000 pounds of towing capacity, it's not very thrifty when it comes to fuel consumption.
You get more choices with the 2019 F-150's V6 and V8 engines, 6- and 10-speed transmission, and rear- and 4-wheel drive. The F-150 has best-in-class towing-and-hauling capabilities, and while it can carry large loads with ease, it drives like an SUV on smooth pavement.
Off-road, the F-150 has a higher ground clearance than the Nissan Titan. Combined with its all-terrain ability, brute-force utility, and off-road ready safety tech, the 2019 F-150 outperforms Nissan's truck.
Ultimately, the 2019 Nissan Titan in Madras, OR is competent enough, but it doesn't offer anything impressive. The truck is more cramped than many trucks today, and the lack of active safety features seriously hampers its performance. The 2019 Nissan Titan might be a step up from its older version, but the superior 2019 Ford F-150 outranks it in every way.