The 2019 RAM 1500 in Madras, OR has been getting rave reviews from experts, and for a good reason. Its stance is both graceful and aggressive. The cabin is built from premium materials, and it is spacious, state-of-the-art, and immensely practical. Tech-wise, there's not much missing from this truck. The 2019 RAM 1500 is no doubt a good buy, but ultimately, it still bows down to the latest version of America's all-time best-selling vehicle, the 2019 Ford F-150. Here's why.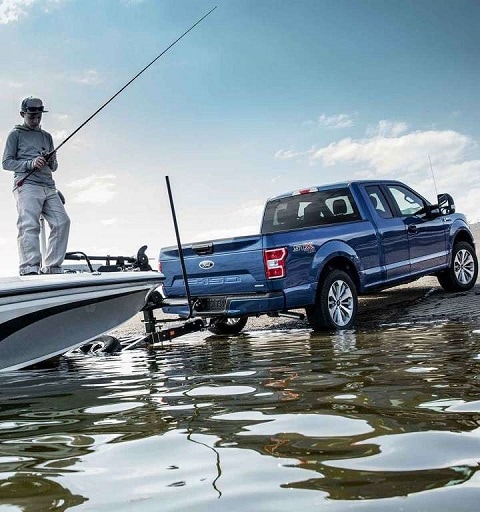 Safety Comparison
The 2019 RAM 1500 and the 2019 Ford F-150 share many advanced safety features such as standard driver and passenger frontal airbags, electronic stability systems, plastic fuel tanks, blind spot warning systems, rear cross path warning, and lane departure warning systems.
Unfortunately, the 2019 RAM 1500 has not been crash-tested yet. In addition, there are some crucial features on the F-150 that are not available on the RAM 1500 such as inflatable seatbelts. F-150 SuperCrew models have optional rear seatbelts that inflate automatically when it detects a collision. This feature helps mitigate crash forces and helps spread them over a larger part of the body to minimize neck and head movement.
The Ford F-150 earned the Top Safety Pick distinction from the IIHS. This is thanks to its high-level performance in rear, front, and side impact and roof crush tests alongside its available front crash prevention system. As one of only 144 vehicles tested and granted this designation by the IIHS, the 2019 Ford-150 offers incredible safety to shoppers.
Passenger Space Comparison
Depending on the configuration you choose, the Ford F-150 generally offers more spacious quarters than the RAM 1500. The F-150 SuperCab, for instance, offers 1.3 inches more rear hip room, .7 inches more front shoulder room, and 3 inches more front legroom than the RAM 1500 Quad Cab. Between the F-150 SuperCrew and the RAM 1500 Crew Cab Pickup, you get 1.3 inches more rear hip room, .6 inches more rear headroom, and 3 inches more front leg room inside Ford's entry.
On top of this, you get a larger cargo area when you choose the 2019 Ford F-150. That's 62. 3 cubic feet versus the RAM 1500 Crew Cab Pickup long bed's 61.5 cubic feet. Finally, the F-150 can carry tall, light loads thanks to its stake post holes. The RAM 1500 does not offer this feature.
Reliability Comparison
The 2019 Ford F-150 offers greater reliability than the 2019 RAM 1500, starting with the fact that there are 31% more Ford dealers than RAM dealers. Therefore, you'll find it easier to find service under Ford's warranty.
The F-150 has an overhead cam design for its engines which results in fewer moving parts, better efficiency, and smoother operation. Some of the Ram 1500's engines still have the old pushrod design.
Should you ever get stranded due to losing coolant, the F-150's standard "limp home system" should give you more peace of mind. This triggers the engine to reduce its power and run on just half of its cylinders. You won't find this feature on the RAM 1500, so you run the risk of engine damage or getting seriously stranded in the case of a coolant leak.
J.D. Power and Associates ranks Ford 16th in terms of reliability, while it ranks RAM at a lower 24th with 15 more problems for every 100 vehicles. For their April 2017 Auto Issue Reports, Consumer Reports also placed Ford vehicles 11 places ahead of RAM vehicles in terms of reliability.
Engine Comparison
Overall, the 2019 Ford F-150 line-up has more powerful engines than the RAM 1500 line-up. For example, the 3L turbo V6 diesel engine of the F-150 produces 440 lb. ft. of torque more than the RAM 1500's standard 3.6L DOHC V6 Hybrid producing just 269 pounds per feet of torque.
Drivers will appreciate the better acceleration of the available 10-speed automatic transmission on the Ford F-150, while the RAM 1500 leaves buyers no choice other than its 8-speed automatic. At the tank, the RAM 1500's optional fuel tank is less efficient than the F-150's optional fuel tank (33 gallons vs. 36 gallons).
The 2019 RAM 1500 in Madras, OR is an extremely capable vehicle and is far ahead in terms of performance and comfort than many of its competitors. A closer look at their features, however, clearly shows the dominance of the 2019 Ford F-150. Unbeatable for many years, the 2019 Ford F-150 continues to be one of the finest trucks on the market today.