The 2019 Toyota Tacoma in Madras, OR is known as a reliable midsized pick-up. It offers strong safety scores, high performance, and desirable features, but will it continue to be a relevant option now that the 2019 Ford Ranger has hit the scene?
How does the 2019 Toyota Tacoma stack up against the 2019 Ford Ranger? Let's take a look!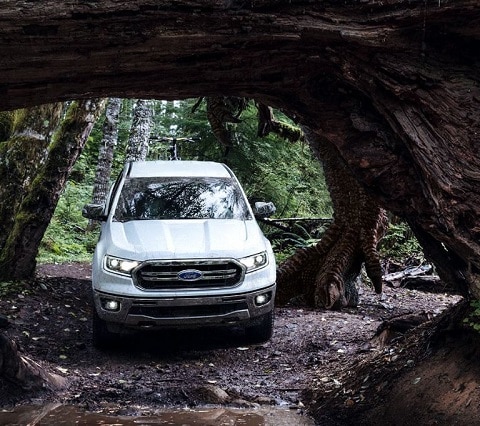 Safety Comparison
The 2019 Ford Ranger pushes the boundaries of how safe midsized pickup trucks can be. Standard on every Ranger is forward collision warning with automatic emergency braking. Lariat models add active lane control, lane departure warning, and rear park assist. To keep both passengers and loads safe, the 2019 Ranger is equipped with blind spot monitoring for trailers, a certified class exclusive.
On top of these safety features, you can also fortify your Ranger with a pre-collision assist system with pedestrian detection. Not only are passengers safe in the Ranger, but those in the vehicle's path are as well.
Safety off-road is another major priority. There's a brand-new Trail Control system to help with tricky driving situations along with a Terrain Management system that offers four modes for several vehicle systems- sand; mud and ruts; normal; and grass, gravel, snow. The 2019 Ford Ranger has anticipated every driving need to ensure protection everywhere you go.
In contrast, the NHTSA was not very impressed with the list of active safety gear on the 2019 Toyota Tacoma, merely giving it a four-star overall rating. Headlights on all Tacoma trims received a low "Marginal" from the IIHS.
The Tacoma offers adaptive cruise control, automatic emergency braking, and lane departure warnings - all available on the 2019 Ford Ranger.
Passenger Space Comparison
The 2019 Toyota Tacoma certainly looks good from the outside, but it doesn't offer a very appealing cabin for passengers. It has a high floor and a low roofline, which mean less vertical space, headroom, and legroom for all seating positions.
While the Tacoma does have padded seats, even the most expensive trims don't have height adjustment. Overall, the cabin has a sturdy feel and is designed with some appealing colors and textures, but there are very few soft-touch surfaces.
One of the biggest technology problems in the Tacoma is that it's not compatible with Apple CarPlay or Android Auto, features that should be a offered in all the latest vehicles.
In contrast, the 2019 Ranger boasts an intuitive SYNC 3 system. The truck is fully compatible with Android Auto and Apple CarPlay; all showcased on a brand-new, gorgeous 8-inch color touchscreen.
Both body styles of the 2019 Ford Ranger can comfortably accommodate up to five passengers. You can also mount a pair of LCD productivity screens on the instrument cluster to project audio info, real-time vehicle information, and navigation maps.
Additionally, up to 10 devices can connect to the 4G LTE Wi-Fi hotspot, and audiophiles get a treat with the available Bang & Olufsen Play audio system. If it's cutting-edge tech and comfort you're looking for, the 2019 Ford Ranger has it in masses.
Reliability Comparison
Ford remains among the highest levels of American brands. Need maintenance or repairs? You don't have to drive too far to reach a Ford dealer for expert service and parts. The 2019 Ford Ranger has a history of reliability, with J.D. Power rating the 2009 Ford Ranger with an impressive 5 out of 5 for predicted reliability.
In a Telegraph survey, Toyota placed 9th with 96 problems for every 100 cars. Some Toyota models have registered issues in the past, such as the Toyota Auris. This model was flagged for quick wear and tear for the front seats, heavy oil consumption, and lack of power due to a blocked exhaust gas valve.
Another long-standing issue with the Toyota Tacoma is its lack of a fully-boxed frame, a must-have for all top-level trucks. Fortunately, the 2019 Ford Ranger has a fully-boxed frame made from stiffer and lighter high-strength steel.
Engine Comparison
The 2019 Ford Ranger continues to beat the 2019 Toyota Tacoma under the hood. You'll find a next-generation 2.3L EcoBoost V6 which is much more efficient and powerful than the 2.7L 4-Cyl option on the 2018 Tacoma.
In terms of payload, the numbers say it all. Max towing rating on the Ranger is 7,500 pounds, while it's a much lower 6,800 pounds on the Tacoma.
On its own, the 2019 Toyota Tacoma in Madras, OR is a good truck, yet it is clearly second best when compared against one of the most advanced trucks available today - the all-new 2019 Ford Ranger.
See this amazing truck for yourself - Click to PREORDER A RANGER here at TS&S Ford Madras!