If you're looking for quality automotive
repair shops in Madras OR
that you can depend on, you've finally found the right one. At TS&S Ford reliability and quality service come standard.   

At this point in time, you're probably wondering if a car dealership is an essential business and if we're even open. We are open and we're ready to serve you! Keeping your vehicle in top shape is still a priority, even though you may not be using it much during the COVID-19 stay-at-home orders.

So now you're likely wondering what measures we have in place to ensure the safety and health of our staff and our clients. You can be sure that we at TS&S Ford are taking all necessary precautions and following all CDC guidelines and recommendations for preventing the spread of the coronavirus. Proactive steps include: 

⦁ Thorough commercial janitorial cleanings daily
⦁ Multiple sanitizing stations on-site for customers and employees
⦁ Specific instructions on hand washing and monitoring one's own health (staff will NOT report to work if feeling ill)
⦁ Social distancing within the dealership

All employees involved in touching your vehicle while it's being serviced are required to wear gloves and use steering wheel covers. Door handles, key fobs, and any commonly touched surfaces will be wiped down with disinfectant before returning the vehicle to you. Additionally, disinfection of our loaner and rental vehicles after each usage is now being implemented to help reduce the spread of the virus.


SERVICE AT REPAIR SHOPS IN MADRAS OR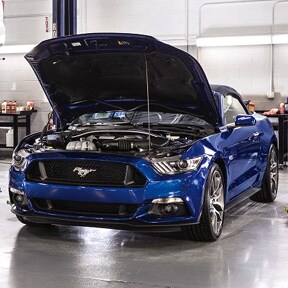 Did you know that TS&S Ford has the largest auto repair shops in Madras OR? Being the biggest gives the advantage of being able to schedule more service in less time. But does biggest mean best? We'll prove it when you schedule your next round of maintenance service with us. And not only are we the largest, but we provide service and repair work on nearly all car, truck, and SUV makes and models. Our Service Center is open from 7:30 am - 5:30 pm daily, 8:00 am - 4:00 pm on Saturday, and closed Sunday. 

When it comes to service, TS&S Ford is who you can trust. Whether it's a basic oil change or battery replacement or something major, like a timing belt, our technicians know exactly what to do, when it'll be ready, and how much it'll cost. If you choose to wait here while your service is being done, take advantage of free WiFi, complimentary beverages, and cable tv in the waiting room.


What's more, we even have ongoing parts and service specials. Visit our website to scroll through coupons and specials. If you have a question while you're searching for repair shops in Madras OR, call us at 888-462-1547, we'd love to help.
CERTIFIED TECHNICIANS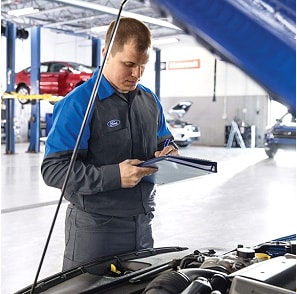 Our technicians are part of a network of over 35,000 factory-trained Ford techs across the US, who are ready to service your car, truck, or SUV. Their training was developed by the same company that designed, engineered, and built your auto. In simple terms, we have the right parts, tools, and technicians to do the job right the first time! 
No matter if you visit our Service Center for regular maintenance or an extensive repair, your Ford (or other manufacturer) will be in the best hands. And we use only certified OEM parts so you can have total confidence in our work. 

So look no further than TS&S Ford when you're searching repair shops in Madras OR because reliability and quality should come standard.