The 2018 Ford F-150 from your Ford dealership in Madras is most esteemed by drivers who love big trucks. Packed with massive power and exceptional capability, the 2018 Ford F-150 improves in all the right areas, ideal for work or play. This handsome hauler can be outfitted for any job and every personality.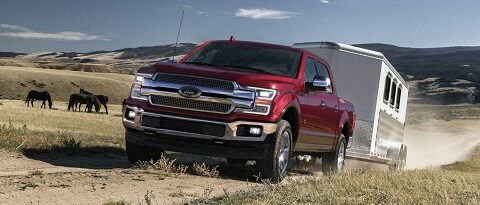 Advanced Engines and Clever Driver Assists
The 2018 Ford F-150 is a clever driver aid, equipped with an available advanced safety system. It makes the confusing work of backing up a trailer as easy as twisting a knob. Upping its game, the F-150 line up is available with a new pre-collision warning system with pedestrian detection. This includes stereoscopic cameras behind the rearview mirror with a new and improved radar that is more effective at detecting subtle movements.
Aside from the pedestrian detection safety feature, the 2018 Ford F-150 lineup adds a stop-and-go technology that brings trucks to a complete stop during heavy traffic.
Full-Sized Pickup Truck
Not backing up from the competition, the 2018 Ford F-150 gets better and better each year. With new model years comes a smarter, more attractive, and harder working vehicle that gives road adventure a new definition. This truck offers better fuel efficiency and reliability as well as good looks that will turn heads on the road. With trim levels including King Ranch, Platinum, and Limited, the F-150 can accommodate any driver's wants and needs.
In addition, the 2018 Ford F-150 lets you stay connected wherever you are. Its infotainment system comes with optional 4G LTE Wi-Fi connectivity. Taking the entertainment level up a notch, the truck's high-end Bang & Olufsen audio system offers unique personalization possibilities, turning it into a stage for a rich listening experience or a fun jam session.
A More Handsome Face
On the surface, the 2018 Ford F-150 is refreshed with new grille design, exterior lighting, wheels, tailgates, and bumpers. This aluminum-bodied, steel frame F-150 is future-proof. Its rust inhibiting properties cut 500lbs off the weight off the truck and make it 20% more fuel efficient than previous model years. With a rugged steel frame covered in a military-grade aluminum alloy body, the 2018 Ford F-150 is an impressive aspect of Ford's winning formula for a tough workhorse.
Boosted Power and Efficiency
The 2018 Ford F-150 changes the lineup for power and efficiency. It gets more power, more gears, more torque, and more mpg to better compete with a crop of new trucks on their way. The pickup's engine generates more power with its 3.3L Cyclone V6 than many of itws competitors generate with a V8 grinding 8 horsepower and +12 lb-ft of torque. It is the only one of the bunch whose flagship engine isn't a V8 engine. The choices expand with its premium powertrain - a lively 3.5L PowerStroke Turbo-diesel V6 producing 375hp and 470 ft-lbs.
Expect bigger fuel economy gains that will keep the F-150 relevant for a few more years. From top to bottom, the 2018 Ford F-150 is the most complete and compelling full-size pickup you can find. Schedule your service appointment with TS&S Ford Madras and see this charmer for yourself!