The 2019 Ford Ranger from your local Ford dealership in Madras promises to be the pickup truck of the year. The Ranger is back to conquer the US market and is expected to enthrall Ford pickup lovers, as well as an adoring new set of fans.
Expect a great comeback from this midsize pickup that defined a generation. The Ranger is set to win hearts again with its tough new appearance coupled with comfortable setup, technological advances, and solid reliability.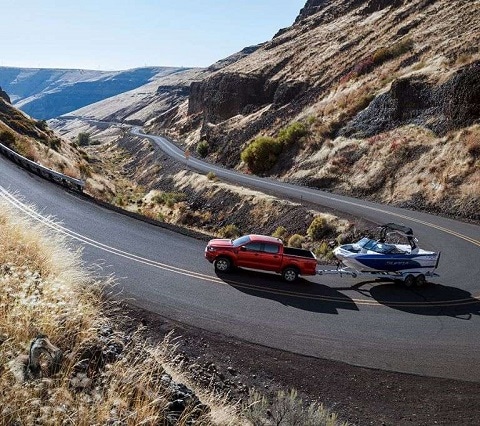 Built for Adventure
In the vein of the "Built Ford Tough" motto, the 2019 Ford Ranger was carefully developed to withstand the elements.  Its hard bodied exterior, 16-inch wheels, and ground clearance make it a road warrior that will make others stare in awe.
Looking to go on an epic trip with family and friends? The 2019 Ford Ranger makes this possible for you. Whether exploring the Cascade and Klamath Mountains in Oregon, or on your way to a river-rafting jaunt, the Ford Ranger can readily take you anywhere.
The 2019 Ford Ranger has 4 x 2 and 4 x 4 capabilities, perfect for traction and handling in any terrain. With its incredible capacity, going through concrete, mud, or even snow is not a problem. Finally, state of the art LED headlights will help you make your way in either the dark city or the astonishing wilderness.
Comfort and Power
The 2019 Ford Ranger comes in the XL, XLT, and LARIAT trims, with appearances that bristle with authority. Like in previous iterations of the Ranger, you can choose between SuperCab (2-door) and SuperCrew (4-door) cabin setups. And whether you prefer a touch of cloth or leather on your seats, you will be treated to an exquisite feeling even when navigating your way through rough terrain.
At the heart of the Ranger is the 2.3L Eco-Boost Engine, which boasts of Auto Start-Stop capabilities. The engine allows for a 210 hp, 369 lb. Ft. of torque geared to 10-speed transmission or dual speed for higher trims. While the Eco-Boost is the only engine variety available, it is highly efficient and complements the vehicle.
Forward-Looking Tech
The 2019 Ford Ranger comes with technological features tailored to the wilderness. Most impressive of these features is the SYNC 3 system, which is available in the LARIAT trim. The SYNC 3 system is a technologically advanced assistant that helps you locate anything from gas stations to hard-to-find destinations. The Ranger also comes with Lane Departure Assist, Auto-Braking, and Blind Spot alert systems that are designed to always keep you in check.
Going on a long trip? Even on the road, you and your mates will never run out of entertainment options. With the Ranger's FordPass Connect 4G WiFi Modem, you and your friends can now update your social media with pictures of those amazing window views. Lastly, be your own road DJ and connect your playlist to the Apple CarPlay or Android Auto system for your dream vacation soundtrack.
Can't wait to get your hands on this road charmer? The 2019 Ford Ranger will be available for orders by next year, and the unit will be yours by the summer of 2019, just in time for your outdoor and intercity adventures. Contact us online or give us call at T&S Ford Madras to find out more about the 2019 Ford Ranger!