The 2019 Ford F-150 from your local Ford dealership near Prineville can't wait to conquer winter with you in the lead. America's best-selling vehicle has proven itself over and over as one of the finest trucks you can drive even on the hardest terrains. In Central Oregon, that means harsh winter roads covered in deep snow and slippery, treacherous ice. Now, you can feel nothing but excitement once winter arrives- get ready for the 2019 Ford F-150!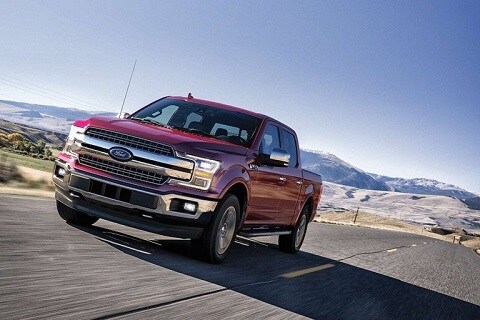 Drives with Precision
The 2019 Ford F-150 doesn't leave anything to chance when it comes to winter driving. The F-150's Selectable Drive Modes includes a Snow Mode that adjusts the shift points and activates the 4X4 auto for confident handling. You don't even have to think about it; the F-150 continuously adjusts the traction control system and electronic stability control as it senses the path ahead.
Tackling the frozen seasons here up North also requires perfect control. Going too fast down that icy curve? No need to worry. The F-150 has a Curve Control capability that instantly slows down your vehicle to maintain a safe speed. The truck's LED lights illuminate the way during blinding blizzards, and the surround-view camera system gives you amazing visibility from all angles.
With the 2019 Ford F-150, the only thing you have to think about is where your next winter adventure will be.
Feels like Home
The 2019 Ford F-150 is a toasty log cabin on wheels. And that's not an exaggeration- with the heated seats and heated steering wheel, you can forget about the frost when you step inside this charmer. Tired of waiting for the cabin to heat up during those cold mornings? Just press the button and let the clever Remote Start System take care of it. By the time you're ready to leave, the Ford F-150 is already perfectly warm and cozy.
Of course, what's winter in Central Oregon without some skiing, sledding, and snowshoeing? You've got 68 cu. ft. of storage with the rear seats folded flat. That's more than enough room for all your sports equipment plus some knick-knacks. If you need more space, the F-150 is available in 5-ft., 6-ft., and 8-ft., bed configurations. Add optional features like interior bed lighting, in-bed loading ramps, cleats, and brackets, and you're all set!
Treat Yourself
Finally, the 2019 Ford F-150 is nothing but indulgent. Cool features like numerous USB ports, 3-prong power outlets, and a 4G LTE Wi-Fi hotspot mean your gadgets are always ready to capture those exciting winter memories. And there's nothing better than the rare sunshine on a clear winter day- welcome the sun inside the cabin with the panoramic vista roof!
Apart from a comprehensive set of cutting-edge safety features, the Ford F-150 is also filled with thoughtful details. Need to read an urgent text message but can't take your eyes off the road? Let the Sync 3 system read it aloud to you. And there's no need to drop anything in the snow when loading up this truck: just use your foot to activate the hands-free liftgate and open up the cargo.
The 2019 Ford F-150 makes it impossible not to enjoy winter to the fullest. Want to see what else it has in store for you? Contact us online or give us a call for inquiries or test drive schedule. Drive over to our showroom here at TS&S Ford Madras- we can't wait to show you the best winter truck available today!