Some rides are built for real adventure. Such is the case with the 2019 Ford Ranger from your local Ford dealership in Central Oregon.
For many years the old Ford Ranger was hailed in several circles because of its impressive all-around performance.  Now back in the States, the 2019 iteration is bigger, bolder, and stronger than ever. The new 2019 Ford Ranger comes with new and improved features, available just in time for spring -  giving you the chance to nab this vehicle and make it your very own.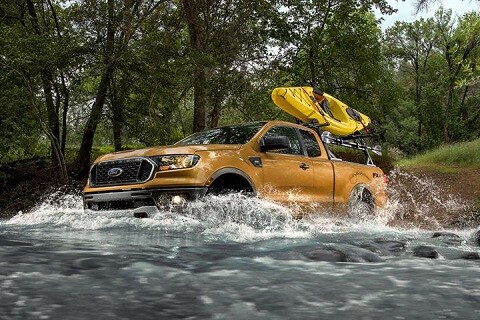 A Gem for Springtime
The 2019 Ford Ranger has the traction to handle multiple terrains, making it perfect for visits to national parks in this nice cool weather. Its famed Terrain Management System helps you maneuver paths with ease. You can take your pick among Normal, Grass, Gravel/Snow, Mud/Ruts, or Sand. Tuned monotube shocks keep you balanced even when going over rough spots.  In addition, the Trail Control feature helps navigate over difficult terrain.
If you're ready to start planting flowers in your garden, the 2019 Ford Ranger can assist by hauling pots with ease. There's plenty of room in the back thanks to the pickup's best-in-class maximum 1,860-lb payload. If you need to bring a trailer with you on the trip, the 2019 Ford Ranger will also come in handy. With up to 7,500-lb. payload capability, this pickup has the needed strength for you to keep going.
Great for Spring Breaks
If you're heading somewhere for spring break, the 2019 Ford Ranger has great maneuverability made for the highway. Wherever you need to go, its 2.3L Ecoboost engine can take you there using its 21 city/26 highway/26 combined mpg power. With such speeds, road trips become much more enjoyable!
Should you have trouble finding your destination, the driver-assist technology will help keep you on the right path. Its responsive cruise control also allows you to start and stop with the vehicles ahead. Meanwhile, the lane keeping assist and lane departing functions ensure your safety on the road.
Lastly, a rear parking function makes backing up more convenient.  You'll have more time to enjoy the blossoms of spring along the way instead of keeping up with your vehicle.
Take in the View from a Comfortable Interior
While the outside features such as the grille and twin dome power hood are scene stealers, the interior is just as impressive.  Style abounds in the cabin and the seats are fitted with surfaces that are soft to the touch.
Apart from the sleek and purposeful dashboard, you will be spoiled by the 8-inch center infotainment screen, which can be connected to most smartphones. Finally, make the interior atmosphere even better with Bang & Olufsen's speakers for your favorite springtime songs!
With power and efficiency at your disposal, the 2019 Ford Ranger from your Ford dealership in Central Oregon is truly the vehicle that is primed and ready to take on any adventure. Since spring is almost here, be sure to get your hands on one now! Click to contact us and place an order for the Ford Ranger.