If you've never owned an SUV, the 2019 Ford Escape from your local Ford dealership in Central Oregon is sure to convert you for good. It has all the practicality of a crossover with a sports car personality. All controls are fast-acting and easy to use, and there are plenty of luxurious amenities to keep everyone happy. All in all, the 2019 Ford Escape is one car purchase you definitely won't regret.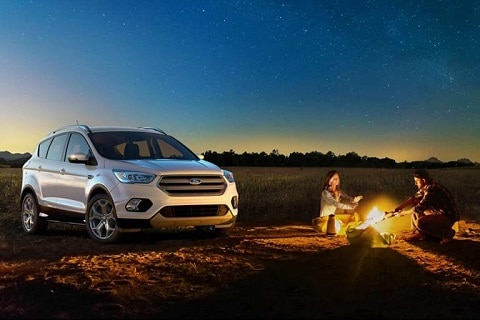 SUV Power, Agile Performance
The 2019 Ford Escape has the capabilities of a large SUV, but driving it feels more like a lighter hatchback. Select the 2L turbo-4 engine, and you've got 245 horsepower under your command. Feel the firm grip as you cruise down the highway and engage the stability control programming as you cut around tight corners.
If you're stuck in heavy traffic, the adaptive cruise control can be a real lifesaver in tandem with the responsive brakes and steering. Drive with confidence through rain, snow, or shine by simply upgrading to the optional All-Wheel Drive package. With an outstanding 5-star score from the NHTSA plus cutting-edge safety features like active lane control, automatic emergency braking, and trailer-sway control, few vehicles come close to the 2019 Ford Escape's capabilities.
Travel like a VIP
The 2019 Ford Escape proves you don't need to spend a fortune just to get the luxury treatment. The Sync 3 infotainment system is considered one of the best systems of its kind, and with Android Auto/Apple CarPlay compatibility, all it takes is a smartphone to use your favorite apps on-board.
The Ford Escape pampers drivers with a power driver seat, heated steering wheel, keyless ignition, and driving support from advanced features like a Reverse Sensing System and smart parking assist. With luxurious leather, heated seats, and dual-zone climate control, it's hard not to feel like a VIP inside the 2019 Ford Escape.
Always Up for Endless Road Trips
Revive the glory of road trips in the 2019 Ford Escape! Punch your destination into the built-in navigation system, or just follow the road where it takes you. Pull a trailer, bikes for the family, and other vacation equipment safely with the tow package. Need to make a pit stop for food or extra gear? The foot-activated liftgate makes it easy to load the cargo and be on your way.
On top of that, sing along as you blast today's biggest hits on the 12-speaker Sony system with HD radio. Light the cabin to fit your mood with the ambient lighting feature. If you feel like letting in some sunshine and a fresh breeze, there's the panoramic roof for your pleasure.
Order Your Own 2019 Ford Escape Today
A quick search of the 2019 Ford Escape will reveal countless glowing reviews from real owners. At TS&S Ford, we want you to experience this incredible SUV first-hand. We'd love to schedule a test drive just for you, so call us at 888-471-4217 to get behind the wheel of the 2019 Ford Escape.
Can't wait? Click to contact us and place an order for Ford Escape today!