The 2019 Ford F-150 from your local Ford dealership in Central Oregon is the ultimate pickup to accompany any experience. Traveling during the early part of the year can be a challenge, as the snow begins to subside. However, with the latest edition of Ford's signature pickup, you can confidently tackle any driving - and cargo transporting-challenge.  It's a truly life-changing experience!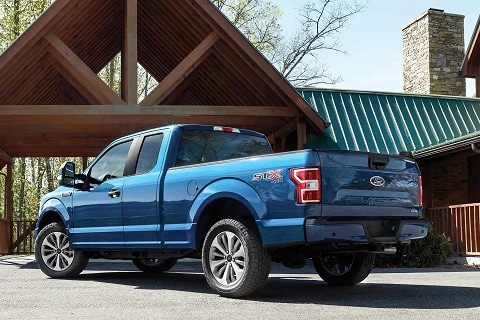 Load Hauling Capability
The 2019 Ford F-150 leads its class in terms of hauling payload or towing a trailer. You can never go wrong with its high strength, military-grade, aluminum-alloy cab. From heavy lumber pieces to everyday sports equipment, this truck is built tough enough for any load! However, the Ford F-150 is not just a work pickup, it can also haul your camper or trailer for outdoor fun. With its 8,500 lb towing capacity, the Ford F-150 is the pickup you need!
Smart Maneuvering
Because of the massive size of the 2019 Ford F-150, maneuvering through tight spaces and backing up can be intimidating, but it doesn't have to be that way. Thanks to advanced technology and available Pro-Trailer Backup Assist, you can easily navigate the truck through even the toughest areas.
As a result, you get instant help with backing up your pickup truck and trailer in crowded campsite parking spaces. You'll be navigating your truck like a pro!
Intelligent Driving
With Spring upon us, more people are outdoors with their children and pets, so for a vehicle with the size of the Ford F-150, safe handling is essential. The 2019 Ford F-150 is equipped with blind spot monitors and surround-view cameras, which enable crucial features such as forward and rear collision warnings and lane keeping assist. You can now have a worry-free morning commute knowing that the Ford F-150 has got your back!
During the transition from winter to spring, driving conditions are affected. The 2019 Ford F-150 is ready to take on challenges posed by freezing rain and potholes with its lightweight steel frame and available best in class 2.7 L EcoBoost engine. The 4WD capability, coupled with the fine-tuned suspension and shock absorbers, ensures that your camping trips in the mountains always go smoothly.
A Mini-Mobile Home
When you get a Ford F-150, you not only get a machine, you also get a home away from home.  It's built with soft-touch materials, including available leather and wood panels. As you make your way down the highway, you can turn on the available heated leather front and rear seats when it gets cold. Play some rock music to keep the chilly blues away, using the premium Bang & Olufsen or Sony audio system.
Infotainment on the Way
For long trips to a national park, the 2019 Ford F-150 is the perfect companion. Sync 3 infotainment keeps you connected and has several smart features. Through Apple Car Play and Android Auto, you can take important calls even when on your way to the ski resort. At the same time, you can navigate the roads through exclusive and intuitive apps!
With best in class performance and durable style, the 2019 Ford F-150 from your local Ford dealership in Central Oregon is the full-size pickup that serves every purpose. Get it now and have more fulfilling experiences! Click to visit us at TS&S Ford!