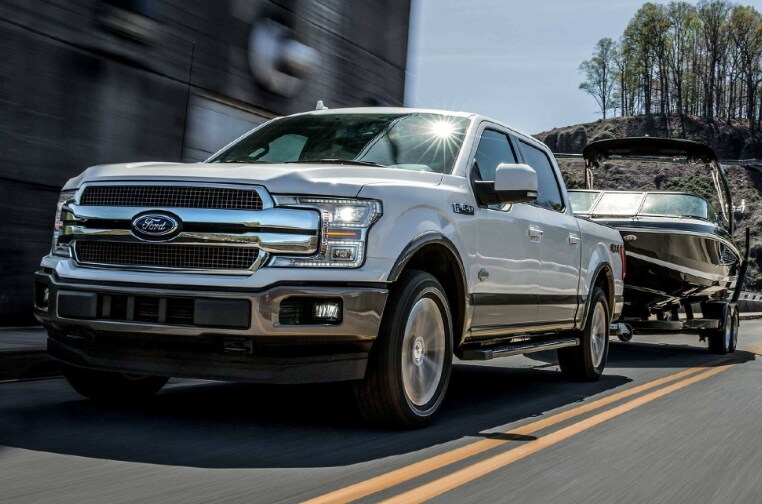 Often regarded as an upscale choice, the
2020 GMC Sierra near Prineville OR
may seem to be at the top of its game. Its handsome exterior and overall tough build make it a reliable contender in the light-duty truck category. However, most savvy truck buyers are shifting more towards an all-time favorite, the 2020 Ford F-150. Find out why this worthy contender is considered the smarter choice in its class.
Awards and Accolades
For starters, it's undeniable that the Ford name has become a real crowd-pleaser. When it comes to dependable trucks, the auto maker truly steps up its game. In 2019, research group JD Power released its Automotive Performance, Execution, and Layout study (APEAL), and reported that the Ford F-150 is the highest ranked light-duty pickup truck in the nation, with the GMC Sierra trailing behind in third place. 
Comparing the Power
At first glance, car reviews claim the 2020 GMC Sierra near Prineville OR appears to be a bit too luxurious for the roughness it will likely endure. On the other hand, the no-frills F-150 can roll out and get the job done in a straightforward manner. It offers outstanding packages, technology, and features without appearing less capable. 
Towing is a task that both trucks can do in a cinch, but which one fares better? The 3.0L inline-6 diesel variant of the 2020 GMC Sierra is slated to give out 277 hp and 460 lb-ft. of torque. The tough bed can carry a max payload of 1,830 lbs and the max towing capacity for the Sierra is about 9,100 lbs. Compare that side-by-side with the 2020 Ford F-150's 3.5L turbodiesel V6 engine, and payload capacity bumps up to 2,020 lbs. Ford claims that with the right set-up, the F-150 can manage a massive 13,200 lbs of towing.   
Efficiency and Safety
Like the 2020 Ford F-150, the up and coming 2020 GMC Sierra near Prineville OR aims to offer impressive fuel efficiency in the city and on the highway. Both trucks can reach up to 23 mpg city and up to 30 mpg highway. In terms of safety, GMC and Ford saw to it that they provided adaptive cruise control, parking assist, brake assist, pedestrian detection, and several other advanced safety features on these new models.
Look into a Brighter Future
It's true the 2020 GMC Sierra boasts some attractive upgrades compared to previous model years, but Ford has more up its sleeve. Critics have been raving about the up and coming 2020 and 2021 hybrid and electric models for the F-150. Though no complete details have been released, reports show that Ford has teamed up with electric vehicle design company Rivian to bring to the world the future of the F-150 truck.  Some sneak peeks mention the EV variants may reach a driving range of 200 miles or more on a single charge. Car enthusiasts will certainly be at the edge of their seats waiting for more juicy details. 
For now, we can readily see who wins this master truck showdown. Experience the Ford difference today by test driving a 2020 Ford F-150 at TS&S Ford.