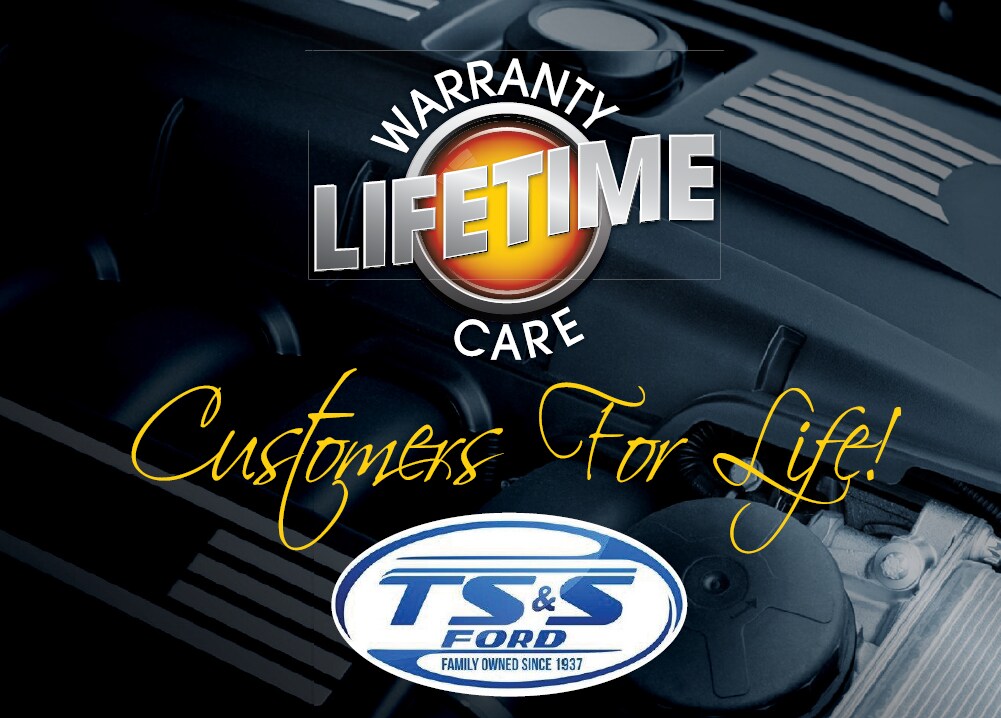 In order to keep your warranty agreement in effect for as long as you own the vehicle, you must have your vehicle checked
and serviced in accordance with the manufacturer's recommendations at a licensed repair facility. Failure to follow such
recommendations may result in a denial of coverage. Maintaining your vehicle at TS & S Ford makes it easy to help you keep
your warranty valid!
We are your authorized facility so when servicing with us there are no requirements to get prior authorizations.
Our knowledgeable automobile technicians are ASE certified.
We maintain your service records, making it convenient at the time of a claim.
Call us today to schedule your next maintenance appointment at 541-475-7204
LIMITED POWERTRAIN WARRANTY 
The covered parts listed below are the items covered under the Lifetime Warranty Care program. If it is not listed, it is not covered.
ENGINE - All internal lubricated parts including engine block, cylinder head(s), exhaust
blow-off valve(s), intercooler & waste gate(s), manufacturer installed supercharger.
TRANSMISSION - (Automatic, Continuous Variable, Standard & Transfer Case) all internally
case housing, transmission cooler, oil pan, vacuum modulator, external & internal control unit, automatic electronic clutches.
DRIVE AXLE - All internal lubricated parts within the drive/transaxle assembly & housing, including axles & axle bearings,
constant velocity joints, drive shaft support, differential cover, hub bearings, front hub locking assemblies, drive shaft, universal
joints, four wheel drive actuator.
FILTERS, FLUIDS, LUBRICANTS & TAXES - Filters, fluids, lubricants & taxes required to complete a Covered Repair for any
Covered Part.
SEALS & GASKETS - Seals & gaskets when required to complete a Covered Repair for all Covered Part(s) listed above.
We will act with reasonable promptness to perform or authorize covered repairs upon your contacting us or the Administrator,
subject to the availability of repair resources during normal business hours.
In circumstances where we are not performing the Repairs, we will not pay for expenses that exceed the manufacturer's
suggested retail price or the posted hourly labor rate for the repair facility multiplied by the appropriate operation time, as
published in a nationally recognized labor time guide. You will be responsible for paying any excess costs charged by the
repair facility.
We will not reimburse you or a repair facility to the extent a Mechanical Breakdown is also covered by the manufacturer's
warranty, regardless of whether the manufacturer honors its coverage obligation.
We reserve the right to inspect the Vehicle and its maintenance records and to request proof of ownership in the event of a
Mechanical Breakdown claim.
We reserve the right to recoup any amount we paid or incurred for a covered Repair to the extent you recover more than your
actual loss collectively from us and one or more third parties.
SUBSTITUTION TRANSPORTATION BENEFIT
During the Warranty Term, you are entitled to a substitute transportation benefit which will reimburse you for actual expenses
incurred to rent a vehicle from a licensed rental car agency or for public or private commercial transportation while your
vehicle is undergoing a Covered Repair. We will pay or reimburse you for actual expenses incurred. You are responsible for
providing the Administrator with copies of receipts or other documents supporting these expenses within 90 calendar days
after the costs are incurred. You must make your own arrangements for substitute transportation. We will not reimburse you
to the extent you are entitled to substitute transportation benefits or reimbursement from another source. A daily benefit
(capped at $25 per actual day that expenses are incurred) will be earned as set forth in the event and earnings rate table
included in the written limited warranty. Call 855-251-7175 to request reimbursement.
REPORTING A MECHANICAL BREAKDOWN CLAIM / MAINTENANCE
SCHEDULE SERVICE
We recommend that you return to the selling dealer for all vehicle maintenance and repairs. However, if you choose to go to another certified repair facility please call the Administrator at 855-251-7175 for a repair or maintenance pre authorization number.
In the event of a mechanical breakdown, please follow these procedures:
Prevent further damage by taking immediate action. This warranty will not cover the damage caused by not securing a timely
repair of the failed component.
Return vehicle to us or, at our option, take the vehicle to an authorized licensed repair facility before the warranty term expires.
If you are more than 50 miles from us, you may take the vehicle to the nearest available licensed repair facility. Call or have
the repair facility call the Administrator at 855-251-7175 for pre authorization number. Provide a copy of the Warranty or the
Warranty number, if possible.
Authorize disassembly of the vehicle if disassembly is necessary to diagnose the cause and cost of the reported Mechanical
Breakdown. You will be responsible for any disassembly and diagnosis charges if the associated repairs are not covered repairs.
If requested, provide us or the authorized repair facility with copies of the vehicle's maintenance records.
If the covered repair is performed by a repair faciltiy other than ours, you or the repair facility must furnish the Administrator
with copies of an itemized, dated repair order and paid receipt(s) within 90 calendar days after the covered repair is performed.
MAINTENANCE
You have the responsibility to properly maintain the vehicle as recommended by the manufacturer. To maintain records of routine
vehicle maintenance performed by us or others a detailed log along with receipts must be available to report a claim for benefi ts.
You must obtain preauthorization for any repairs made to the vehicle by a repair facility other than ours.